Eagle Rock Women's Jiu-Jitsu
Our Women's Jiu-Jitsu Helps You Train With Complete Confidence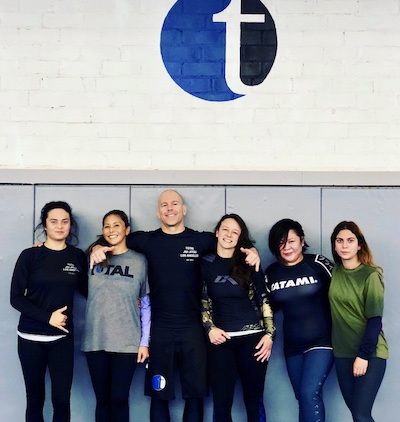 Look, we get it. Brazilian Jiu-Jitsu is a close combat system that puts you through a wide range of grappling positions and asks you to gain leverage over an opponent from any one of those positions.
It can be intimidating in mixed company, to say the least.
That's why we offer weekly Women's Only Jiu-Jitsu Classes where you can training alongside women of your same skill level and learn the sport with the help of our dedicated instructors.
These classes can serve as a great workout, an effective form of real-world self-defense, and an incredible way to relieve the stresses of your daily life.
Check it out or learn more today! TOTAL Jiu-Jitsu Los Angeles is conveniently located in LA's Eagle Rock neighborhood and we can't wait for you to get started!
What Can You Expect From Our Women's Jiu-Jitsu Classes?
We train women with a wide range of skillsets and abilities. Some women come to us after years of competitive fighting and some come with zero experience at all.
That's the beauty of the system. You can make it what you want.
Our Women's Jiu-Jitsu Classes offer scalable training for all abilities. You'll learn offensive and defensive strategies each and every week and you'll build your confidence with the sport one step at a time.
And oh yeah, you'll enjoy an incredible total-body workout.
Join us in Eagle Rock and take on:
Drilling and technique training
Light sparring sessions
Effective cardiovascular workouts
Total-body strength building
Take The First Step Today! Learn More About Our Women's Jiu-Jitsu Classes In Eagle Rock!
If you're looking for a new way to train or you're hoping to take your Brazilian Jiu-Jitsu skills to the next level, we've got the answer at TOTAL Jiu-Jitsu Los Angeles.
Our Women's Jiu-Jitsu Classes are great for people all across Eagle Rock and beyond. Just fill out the short form on your screen to get started today!